Thank you to all of our players, fans, parents, coaches, and staff for an excellent Spring 2019 season. While we had to battle the weather to start the season, we are thrilled with the weather we got in our last few weeks and your support throughout the season.
Congratulations to all of our players who played with dedication, sportsmanship, and competitiveness on another fantastic year!
A special congratulations to our Spring 2019 Champions!
Adult: Two Peas in A Pod, Knibb High Football, T.B.D.
NFL: Broncos, Raiders
CFL: Blue Bombers, Argonauts
Senior: Kingsway Village Custom Homes Inc., Pirates
Junior: 49ers, Bengals, Cardinals
Sophomore: Saints, Buccaneers
Freshman: NIKU Farms, Fresco Space
Girls: Marauders, Gryphons
JCC Chai: Spartans, Sooners
We are looking forward to seeing each and every one of you back in the Fall!
Fall Registration Is Now Open
CLICK HERE TO REGISTER FOR FALL 2019!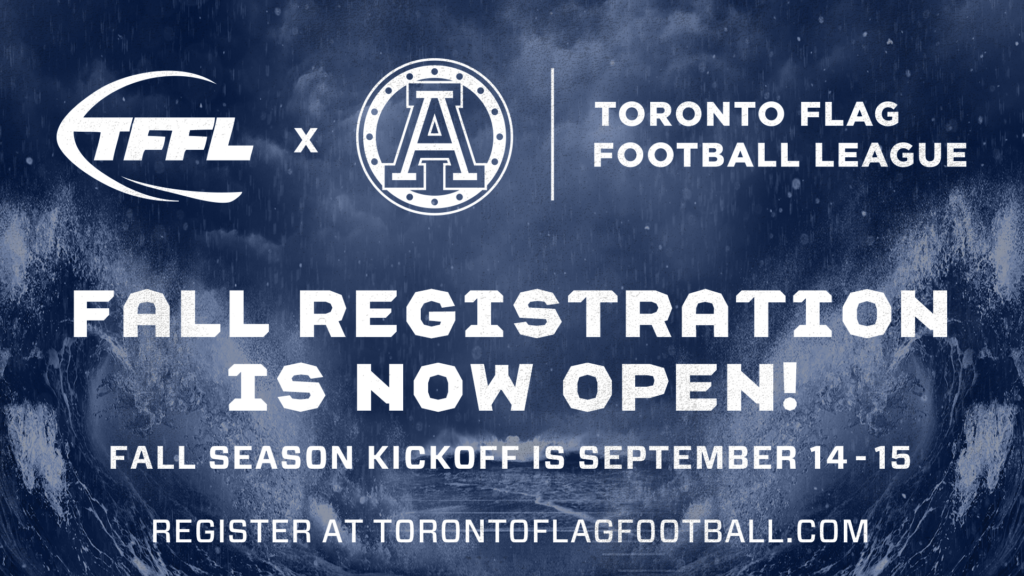 Get Your Summer Football Fix
Many of you have asked if we run any programs in the Summer.
While we do not run a summer league, Toronto Flag Football is available for special events, including:
Visits to summer camps for special programs
Birthday parties or other private events
One-day skills clinics
If you are interested in having Toronto Flag Football at your event, camp, or would like to take part in one of our skills clinics, send us an email or give us a call! 
Toronto Argonauts Ticket Offer
TFFL Spring 2019 players get 35% OFF tickets for ALL TORONTO ARGONAUTS HOME GAMES for the rest of the season!
To claim this offer, visit www.argonauts.ca/ticket-pass and use code: TFFL2019 or click here.